Vitamin F in DULCIA natural cosmetics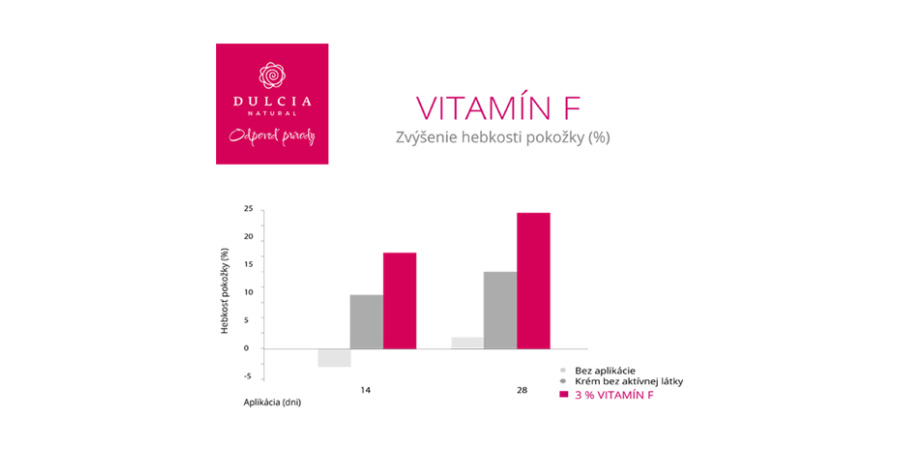 Vitamin F consists of essential fatty acids (omega-6 fatty acids) derived from safflower oil in their natural, biologically active form. It contains 70 to 80% linoleic acid, which is important for the lipid barrier in the skin and its physiological functions. It contains natural tocopherols.
Benefits of vitamin F for skin care:
repairs disrupted lipid barrier
softens, moisturizes and softens the skin
prevents evaporation of water from the skin
the origin of vitamin F in Dulcia products is from natural safflower oil, which is not genetically modified
Vitamin F prevents transepidermal water loss in the skin
A basic prerequisite for the proper functioning of the skin is sufficient hydration. However, a large amount of water is lost from the skin through evaporation. Transepidermal water loss is the natural process of water evaporation through the stratum corneum. However, transepidermal water loss also varies depending on the season. In winter it increases by 30% on the face and 10% on the rest of the body compared to summer. Dehydration worsens and the effectiveness of the skin barrier is reduced. A drop in the water content of the skin below 10 % manifests itself as symptoms of dry skin, which is unable to fully fulfil its function as a 'barrier'. A process of drying out occurs, which is gradual. The cellular material becomes confluent. If the skin has sufficient fluid, it is hydrated and the stratum corneum is relatively elastic. If the process is reversed (dehydrated), the stratum corneum is fragile and cracks on movement.
Dry skin
Dry skin results from inadequate water barrier function with increased transepidermal water loss. Clinical studies of dry skin have shown that there is a reduced content of skin lipids as well as sebaceous gland lipids. However, "dry skin" is also an increasingly common symptom, and not only are there several types of dry skin, but of course there are also different causes of dry skin. Today's research findings suggest that 15-20% of the population has dry skin. The manifestations are clear - redness, peeling, itching, and later the development of eczema. The number of diseases associated with the manifestations of dry skin is increasing every year. Dry skin is rough and fragile to the touch, with a tendency to significant scaling, small cracks (fissures) and thickening (keratosis). It is very sensitive to mechanical and physical stimuli, painful, vulnerable and prone to eczema.
Vitamin F can be found in the following Dulcia products: 
NOURISHING SKIN CREAM LIPIDS AND VITAMIN F
This thick and highly nourishing cream provides intensive care for dry, stressed and mature skin. It instantly nourishes the skin, significantly slows down its aging, leaving it supple and soft. The intensive to regenerating cream restores the softness and elasticity of the skin.
In the e-shop you will find here.
EYE CREAM DAISY - DAILY
Gentle revitalizing and firming eye cream provides a supply of hydration, protects the delicate skin around the eyes, anti-wrinkle. Daisy extract brightens the eye area, reduces dark spots and under-eye circles. The cream is designed for every skin type that needs to be revitalised and hydrated.
In the e-shop you will find here.
MOISTURIZING SERUM - COLLAGEN
The fresh, soft texture promotes skin hydration, giving it a fresh and youthful appearance. Collagen effectively and visibly nourishes the skin, making it smoother and more elastic. The gentle serum revives thirsty skin.
In the e-shop you will find here.
Source: DULCIA natural
Výběr zboží,Ceny,Rychlost doručení
Pečlivě vybrané produkty, rychlost doručení, zákaznický servis, široká nabídka
Komunikace, rychlost, přehlednost....
Nic
moc prijemna komunikace, kvalitni zbozi